Personalized Health Series – Workshop on Drug Repurposing
12 May 2023 @ 1:30 pm

-

6:15 pm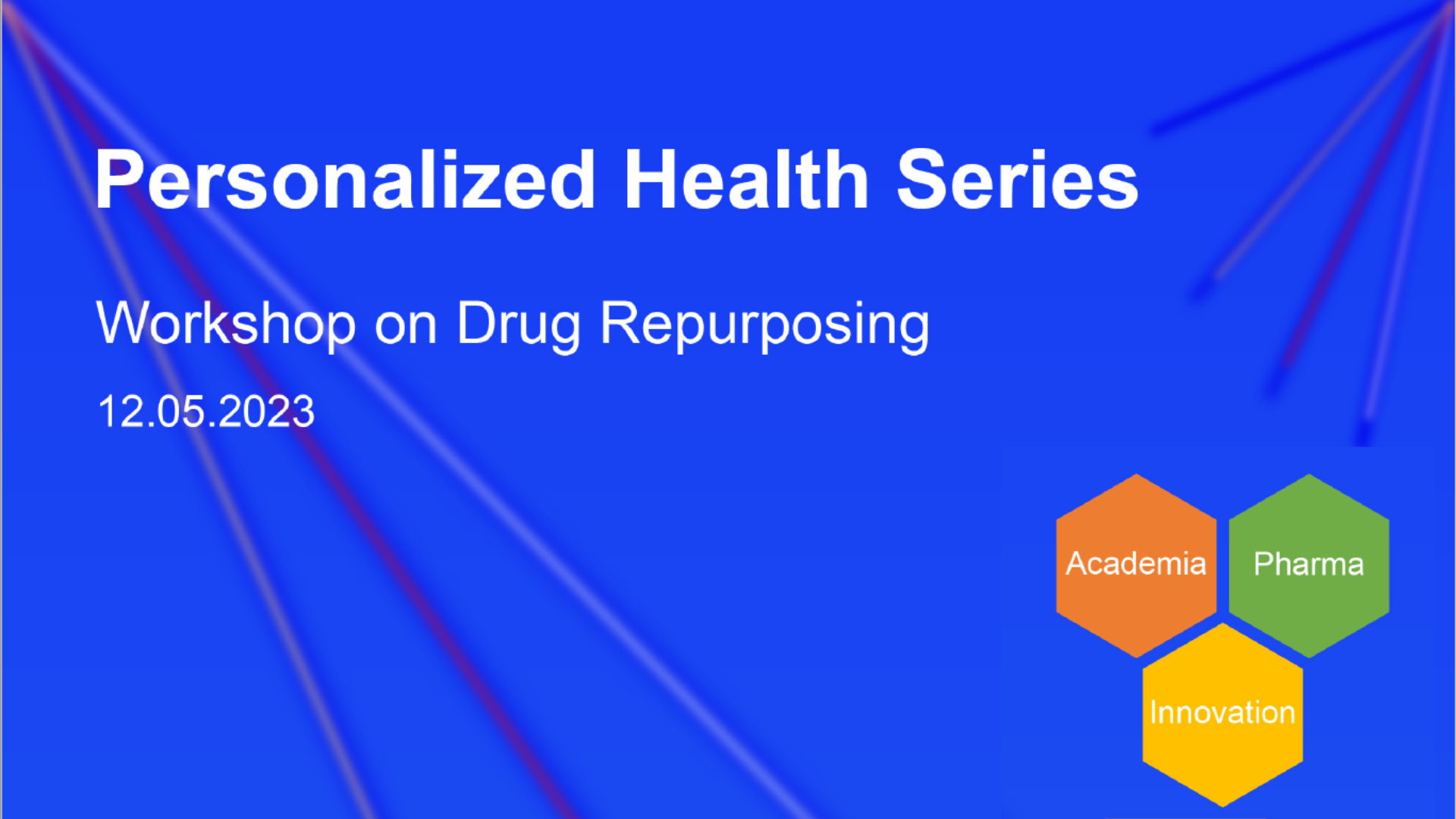 The goal of this workshop series is to foster and strengthen partnerships and collaborations between industry and universities, and to define a few pilot projects that are leading to innovation and societal impact.
This year's edition will focus on Drug Repurposing. As in previous workshops, the goal is to engage professionals from both academia and the pharma sector, showing their joint initiatives with the aim to inspire new potential partnerships, and to spark interdisciplinary and cross-functional interests.
The presentation of these join initiatives will be followed by the panel discussion "Harnessing the power of collaborations and partnerships", which will explore how to facilitate and accelerate partnerships and collaborations between academia and industry, as well as how to remove obstacles to pave the way into impactful progess.
AGENDA
13:30 – 13:45 Welcome
Dr. Bram Stieltjes, Head of Department Research & Analysis Services, University Hospital
Basel, Chair of Personalized Health Basel
Dr. Raffaello Ferone, Research Coordinator at Personalized Health Basel
Dr. Alessandro Mazzetti, Team Lead, Innovation Collaborations at Innovation Office
Collaborations between Pharma companies and Academia
13:45 – 14:10 Genome-assisted drug repurposing in psychiatry
Prof. Andreas Papassotiropulos, University of Basel
14:10 – 14:35 Combining Protein & Ligand Centric approaches to predict Drug Repurposing with in-silico
Polypharmacology
Dr. Andrea Beccari, Dompé farmaceutici S.p.A.
14:35 – 15:00 REMEDi4ALL – the European platform for medicines repurposing & REMEDi4ALL Funders Network
Dr. Heleen van der Meer, ZonMw, and Dr. Anton Ussi, EATRIS
15:00 – 15:20 Break
15:20 – 15:50 Pitching session
Small Molecules, Big Opportunities: A Multi-Purpose Platform for Off-Target Analysis
Prof. Martin Smiesko, University of Basel
Using implementation science to power the research pipeline towards faster transla-
tion in real-world settings
Dr. Sabine Valenta, Institute for Nursing Science
Holistic Approach to Personalized Medicine & Host-Response Monitoring: Quantifying Pro-
tein & Nucleic Acid Biomarkers with Diaxxo's Desktop qPCR Platform
Engr. Joseph Iwasyk, Swiss TPH
Drug repurposing for helminth infections
Prof. Jennifer Keiser, Swiss TPH
Picky Binders: choose the right predictor for your drug or target
Dr. Janani Durairaj, University of Basel
15:50 – 17:10 Panel discussion: Harnessing the power of collaborations and partnerships: What is still needed in Drug Repurposing? From in-silico discoveries to business models – How to
remove obstacles and facilitate and accelerate partnerships and collaborations?
Panelists: Prof. Henriette Meyer zu Schwabedissen (University of Basel), Charlotte Piens
(STADA Arzneimittel AG), Dr. Andrea Beccari, (Dompé farmaceutici S.p.A.), Engr. Silvano
Coletti (CEO Chelonia Applied Science) Moderator: Dr. Benjamin Kasenda (Senior Consul-
tant Medical Oncologist, University Hospital Basel)
17:10 – 18:15 Networking Apéro
Organising Team:
Raffaello Ferone (Personalized Health Basel) – raffaello.ferone@unibas.ch
Alessandro Mazzetti (Innovation Office) – alessandro.mazzetti@unibas.ch