REMEDi4ALL MULTI-STAKEHOLDER MEETING: Drug Repurposing, an Attractive Strategy in Pancreatic Cancer Treatment?
14 November 2023 @ 9:00 am

-

5:30 pm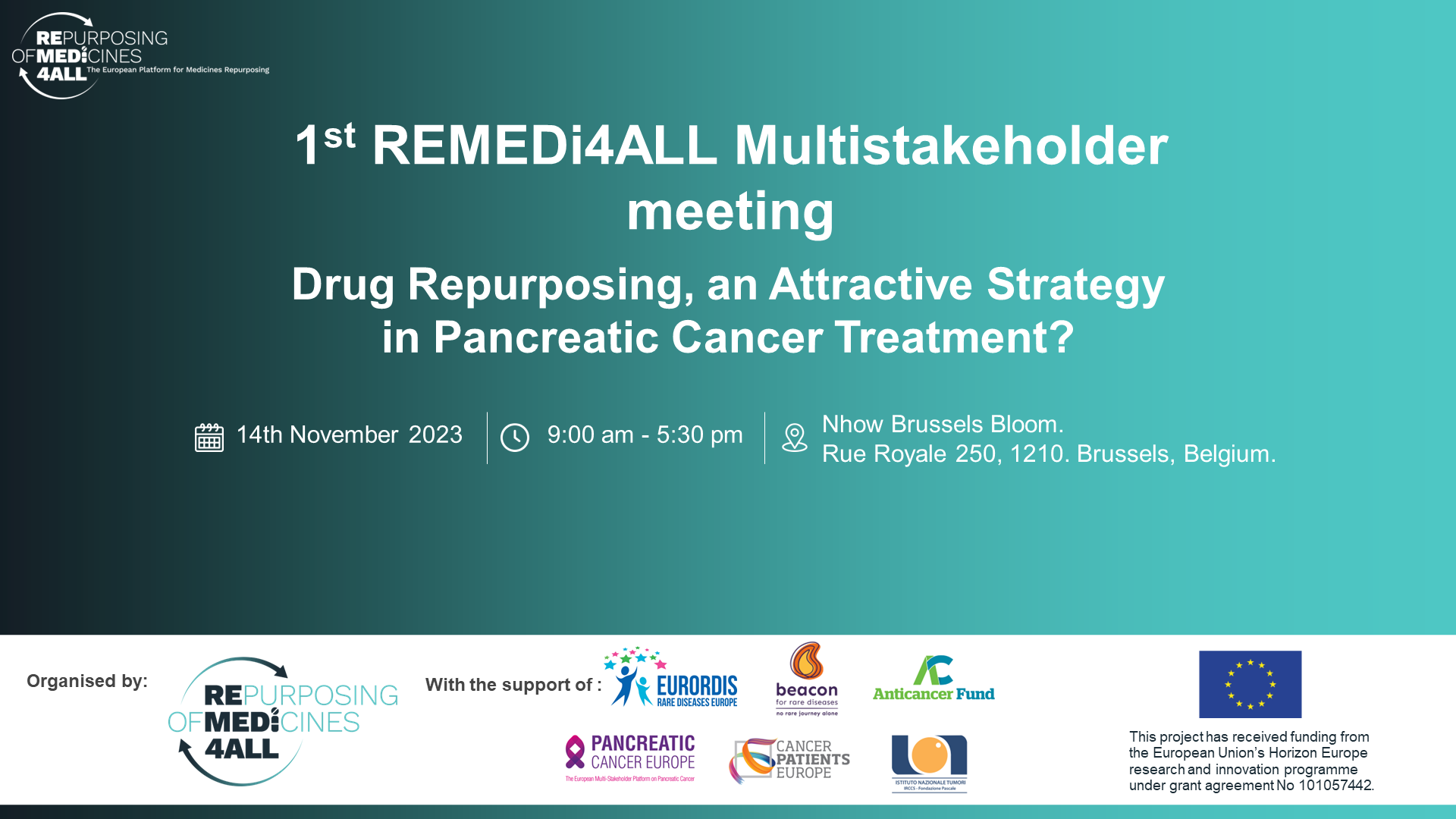 REMEDi4ALL is pleased to announce the first Multi-Stakeholder Meeting on drug repurposing in PANCREATIC CANCER.
This one-day in person workshop is aimed to bring together all relevant key stakeholders (patients and patient representatives, academia, industry, regulators, funders, etc.) to discuss the recent state of art on drug repurposing in oncology and specifically in pancreatic cancer. Topics of discussion will include an overview of the disease and the current (preclinical and clinical) drug repurposing programs, biomarkers, the importance of a patient-centred outcome measures and patient engagement activities in the study design and implementation. In addition, current hurdles including financial and regulatory barriers to successfully repurpose non-oncology drugs in pancreatic cancer will also be discussed.
Preliminary Agenda (might be subject to change)
8.30 – 9.00

 

Welcome and Registration 

9.00 – 9.10 

 

Open Ceremony 

 

Claudia Fuchs 

 

(REMEDi4ALL – EURORDIS)

 

 

SESSION 1: SETTING THE SCENE

 

Moderator: Claudia Fuchs (REMEDi4ALL – EURORDIS)  

9.10 – 9.30 

 

General Introduction on Pancreatic Cancer

 

Alfredo Carrato

 

(Pancreatic Cancer Europe – PCE) 

 

9.30 – 9.50

 

Tackling pancreatic cancer: tricks and tips

 

Ilse Rooman

 

(Anticancer Fund, Vrije Universiteit Brussels)

 

9.50 – 10.10 

 

Drug repurposing in oncology – Attractive but not that simple

 

Gauthier Bouche 

 

(REMEDi4ALL – Anticancer Fund)

 

10.10– 10.25

 

REMEDi4ALL 

 

(vision, mission, European Context)

 

Donald Lo 

 

(REMEDi4ALL – EATRIS)

 

10.25 – 11.10

 

Patient Perspective on Drug Repurposing in Oncology

 

Patrycja Rzadkowska

(Pancreatic Cancer Europe – PCE and DiCE) 

 

Ali Stunt (Pancreatic Cancer Europe – PCE and Pancreatic Cancer Action UK)   

 

COFFE BREAK

11.10 – 11.40

 

 

SESSION 2: TREATMENT OPTIONS AND DRUG REPURPOSING OPPORTUNITIES IN PANCREATIC CANCER 

 

Moderators: Gauthier Bouche/Patricia Vandamme (REMEDi4ALL – Anticancer Fund)  

11.40 – 12.00

 

Orphan Medicinal Products for the Treatment of Pancreatic Cancer: Lessons Learned From Two Decades of Orphan Designation

 

Violeta Stoyanova-Beninska

 

(Medicines Evaluation Board,

Chair of Committee for Orphan Medicinal Products at EMA)

 

12.00 – 12.20 

 

Preclinical and Clinical Updates on Drug Repurposing Opportunities in Pancreatic Cancer

 

Luca Cardone 

 

(Istituto Nazionale Tumori Regina Elena and National Research Council of Italy) 

 

12.20– 12.40

 

Patient Story 

 

Steve Bigelsen

 

 

(Rutgers New Jersey

 

Medical School, Newark, NJ, USA)

 

12.40 – 13.00 

 

The VESPA Trial – Repurposing valproic acid combined with simvastatin to potentiate first line gemcitabine/nab-paclitxel-chemotherapy regimen in metastatic pancreatic cancer patients

 

Alfredo Budillon

 

(

REMEDi4ALL

– Istituto Nazionale Tumori Fondazione Pascale)

 

 

  

 

LUNCH BREAK

13.00 – 14.00

 

 

 

SESSION 3: THE PAST, PRESENT AND FUTURE OF PANCREATIC CANCER CLINICAL TRIALS

 

Moderators: Eve Hewitt/Rick Thompson (REMEDi4ALL- Beacon)  

14.00 – 14.40

 

Financial and Regulatory Barriers and Potential Solutions

 

– HTA perspective  

– Industry perspective 

– Funders persepective 

Dalma Hosszu

 

 

(REMEDi4ALL – Syreon)

 

Hans Platteeuw  (CEO Galenicap) 

Alexandre Bento Costa Alencar  (Rising Tide Foundation) 

14.40 – 15.00

 

Biomarkers in Pancreatic Cancer

 

María Laura Garcia Bermejo 

 

(Ramon & Cajal Health Research Institute)

 

15.00 – 15.20

 

Patient Centricity in Clinical Trials 

 

Antonella Cardone 

 

(Cancer Patients Europe – CPE

)

 

Federica Valsecchi  (Fondazione Valsecchi) 

 

COFFE BREAK 15.20 – 15.50

 

 

 

 

15.50 – 17.20  

 

FINAL ROUNDTABLE AND DISCUSSION

 

Moderators: Claudia Fuchs (REMEDi4ALL – EURORDIS) – Eve Hewitt/Rick Thompson (REMEDi4ALL – Beacon) 

17.20 – 17.30   

 

Closing Remarks  

 

Claudia Fuchs

(REMEDi4ALL – EURORDIS)

 

Eve Hewitt/Rick Thompson (REMEDi4ALL – Beacon) 

17.30

 

End of the Meeting 

 

and "GET TOGETHER"