Workshop – REMEDi4ALL: what's in it for funders?
5 July 2023 @ 12:00 pm

-

2:00 pm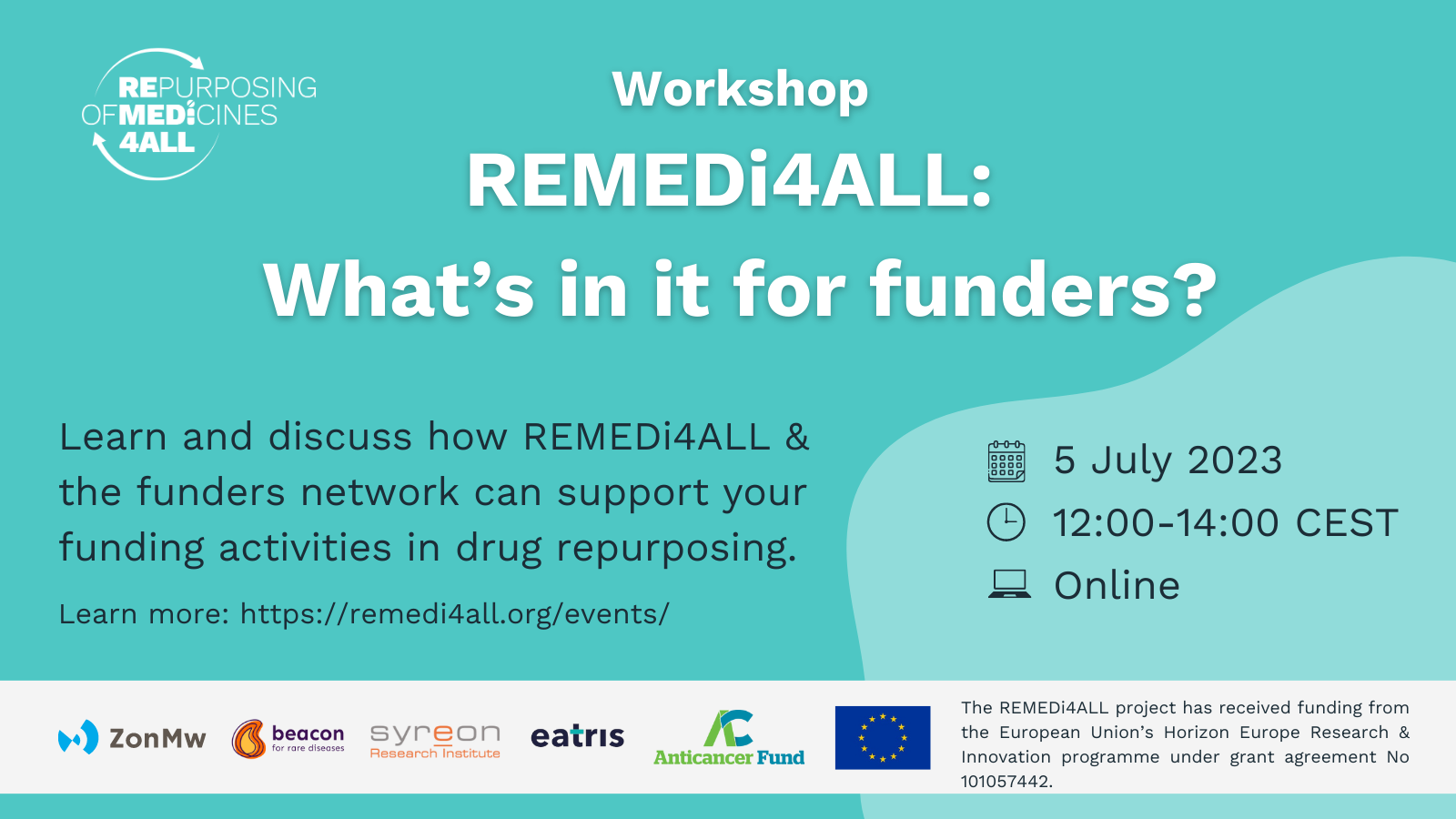 Learn and discuss how REMEDi4ALL

& the funders network

can support your funding activities in drug

repurposing
Target audience: Funders who are (willing to be) active in drug repurposing 
Within REMEDi4ALL an international funders network for drug repurposing is currently being created by ZonMw. So far, more than 50 different funders from all over the world have expressed their interest to join the network. Many of them also already shared their experiences with and ideas of funding drug repurposing with us via an online survey and in face-to-face interviews. This is the first workshop where funders who are interested in joining the funders network come together. Within an interactive setting we will talk about how REMEDi4ALL and the funders network can support funders in drug repurposing. You will learn about current and upcoming activities in REMEDi4ALL related to funders. Also, we will share and discuss the insights collected from funders on the barriers, solutions and incentives needed for funding drug repurposing. 
DOWNLOAD THE FULL PRESENTATION
Agenda
Time

 

Topic

 

12.00-12.05

 

Welcome

 

Chair: Heleen van der Meer (ZonMw) 

12.05-12.30

 

Introduction REMEDi4ALL and funders network

 

Anton Ussi (EATRIS) & Heleen van der Meer (ZonMw) 

12.30-12.40

 

How do you repurpose? REMEDi4ALL's training programme for the whole repurposing ecosystem

 

Rick Thomson (BEACON: for rare diseases)

+ input from all participants 

 

12.40-12.50 

Introduction to the REMEDi4ALL Funding Decision Tool

 

Marcell Csanadi (Syreon Research Institute) 

+ input from all participants 

12.50-13.00

 

Q&A – break

 

13.00-13.20

 

Funding drug repurposing: barriers, solutions & incentives needed

 

Heleen van der Meer (ZonMw) 

13.20-13.45

 

Paneldiscussion

 

Moderated by Pan Pantziarka (Anticancer Fund) 

Panellists: 

Joanna Davidge (LifeArc)

 

Teun Grooters (Arega Medical)

 

Sagair Hussain (DEBRA)

 

Sarah Puddicombe (National Institute for Health and Care Research Coordinating Centre (NIHR CC))

 

13.45-14.00

 

Next steps for the funders network & closing

 

Heleen van der Meer (ZonMw) 

+ input from all participants